December 2, 2019
---
 The Ally Pally Antiques and Collectors Fair - which way is the wind blowing?

I spent a couple of hours at the Alexandra Palace Antiques and Collectors Fair yesterday. I have always really enjoyed this fair with its cavernous gorgeous venue and the crowds that turn up no matter the weather. As I walked in, I felt that it had a more subdued quality than I remember. This could just reflect my mood so I will try not to be too subjective. There were plenty of beautiful people walking around in their vintage clothing. The dealers I spoke to seemed upbeat as well but then I always approach the people who look the friendliest.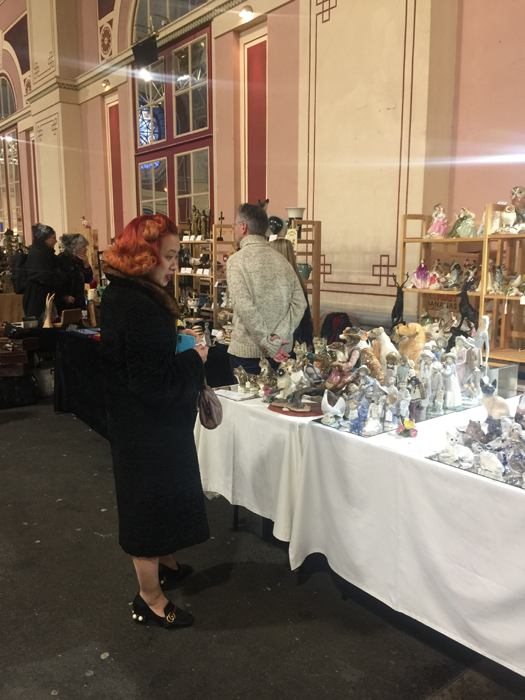 I spend much of my week at antique and vintage fairs and markets as I am always looking to make good contacts for Intercollector.  I also enjoy the atmosphere and often I find a great item to add to my collections. Now that I have this continuous exposure to this part of the market, I have come up with a few insights.
I think that the problem with fairs like Ally Pally is the general nature of the thing. The dealers have had to expand their offering to every collectible they can get their hands on, so the items get lost. The majority of stands have 20% great quality, 40% medium quality and the rest of the stuff is just second-hand tat.  Yes, I get that the 80s and even 90s are now considered vintage, but I don't believe that collectible vintage should ever be mass produced. Stuff from H & M in the 90s is not vintage! And mass produced "vintage" looking items like bags and jewellery should not be allowed at any antiques fair, but it is all there, bringing down the dealers who really curate what they offer. 
I think that the trend will be that the fairs that offer high-end art and antiques will keep going. These are fairs like Battersea, Olympia or Masterpiece. There will always be collectors who will want to benefit from the dealer's expertise and who admire the elegant presentation. From the dealer's perspective doing an upscale fair is also a branding exercise, as the dealer's name and brand are focussed on. This is not true at fairs like Ally Pally where I had a hard time even finding a few dealers with business cards!

Fairs on the lower end of the market will become obsolete as the online market will take control here. The dealers who are already making many of their sales online will see that doing fairs is not cost effective. Eventually, the new dealers coming up will either abandon fairs all together or get into the more upscale market. This will not be happening overnight of course, but it is important to identify trends and then adapt to the current environment in order to maintain relevance at such a pivotal time in our business.