It's been over three months since the last blog post. In this period of such trauma and turmoil there did not seem to be anything to write about that added anything positive.  In our field, auctions have been rescheduled or are being handled as online only sales with no ability to view and antique fairs, markets and centres have all closed.  One of the most vibrant and social businesses in the UK has been shuttered and people are looking ahead to what comes next. 
When this all happened Intercollector was brand new. Our first auctions commenced in November 2019 and we were beginning to get our footing.  In January, when this all started, we thankfully had no staff costs or premises.  Indeed, we feel quite fortunate that we did not take on any liabilities as it would have been extremely difficult to maintain these during the lockdown.  So here we are in this new era trying to adapt and refocus our efforts to online only communication instead of face to face marketing, which is what we did at the antique fairs and markets.  Reaching the massive pool of traders that would have stands at fairs like Newark and Detling is extremely difficult now as they tend to be quite an analogue group.  Intercollector had been aiming to be a bridge to online selling for these traders and we were making some headway.  This strategy will sadly have to wait until the fairs and markets start up again. Hopefully soon!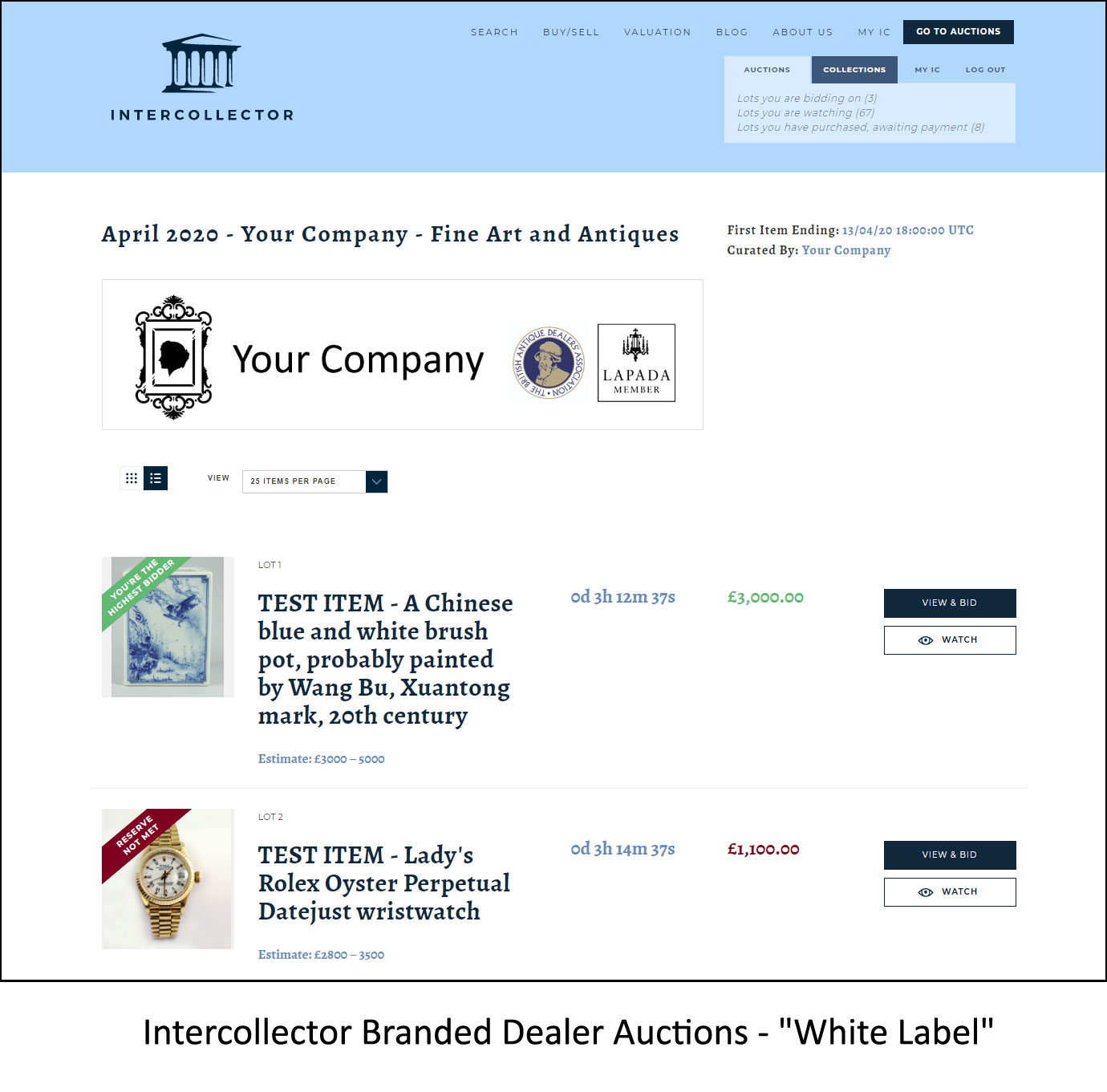 The thing about Intercollector is that it is extremely flexible. The software is developed using the AGILE method of programming. This method is based on a collaborative model which advocates adaptive planning, evolutionary development, speedy delivery, and continuous improvement.  In short – we can move quickly to adapt the software and business model in any direction we choose. 
Our newest enhancement, that just went live a few weeks ago, is  White Label auctions where dealers can offer their stock at auction under their own name and brand. This is becoming quite commonplace in the auction market these days.  Our advantage here is that we can have an auction uploaded and live in one day and there is ZERO cost to the dealer. Also, we now have the added benefit of having our auctions posted on Barnebys – the largest search engine for antiques and collectibles in the world. So, if you are wondering about our audience, we have that covered also. 
Anyway, enough of that – clearly, I am rather enamoured with Intercollector!  I just wanted to write about how we are adapting in this new environment – something that most companies are considering right now. 
WE HOPE EVERYONE IS WELL, SAFE AND HAPPY!