January 14, 2020
---
 Egyptian Revival - How this ancient iconography became so influential.

Egyptian Revival (ER) design represents the appropriation of Egyptian iconography of the ancient pharaohs mainly Tutankhamun. Most people think of ER as connected to the Art Deco period and this is very true, but ER design goes back to the Napoleon's campaign in North Africa that dates from the 1700s. In Britain it first became popular after the Battle of the Nile in 1798.  Queen Victoria and Prince Albert became great enthusiasts of ER design. What I think is difficult to understand these days is that the Queen and Prince were very influential trendsetters in Britain during this time.  They were the purveyors of good taste, so when they liked something, the whole country followed along. Of course, the general public did not have access to the luxury the royal family had. This meant that ER decorations like clocks and candlesticks; textiles and fashion were created to give people a taste of the royal fashion. Egyptian Revival was also very popular in France at this time and the rest of Europe followed suit. 
Fast forward to 1922 and the discovery of Tutankhamun's tomb. This was a big exciting news story that got the world's attention so instead of interpreting someone else's idea of ancient Egypt, people now were seeing real artefacts that were on newsreels and touring museums. This influenced fashion for sure. It became one of the first global trends and was quickly turned out by designers and was mass produced both in Europe and the US.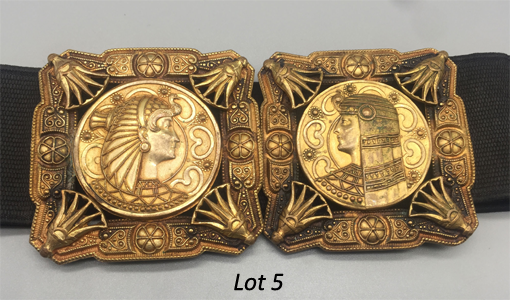 The belt buckle shown here is from c. 1850 and is made of gilt brass. I think you can see the difference between the two periods. This buckle is a good example as it is a Victorian design with a nod to Egyptian iconography, but it is still very European. Whereas the Art Deco era had a much cleaner look and was truer to the actual ancient Egyptian designs.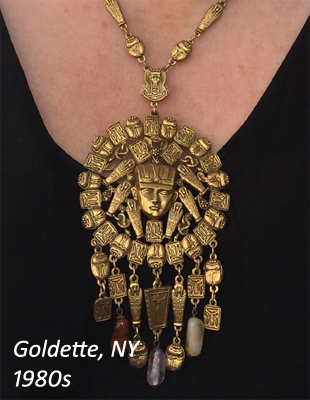 Egyptian Revival fell out of favour in the 1940s as it was so sumptuous that it did not mesh with the times which were defined by war and austerity.
Egyptian Revival had a comeback in the 1980s, an era known for excess and luxury. The opulence of the pharaohs fit in well with the fashion during this time. 
In this current Intercollector auction we have eight wonderful pieces of Egyptian Revival jewellery including the belt buckle – as illustrated below.