July 10, 2020
---
 With fairs and markets starting up again this week, what does the landscape look like?

This week I was able to go to the first large antiques fair at Kempton and see the reopening of Spitalfields Antique Market.  I was excited by the prospect of returning to the vibrant trade of antiques and collectibles and I was not disappointed. 
Kempton was previously known for its sprawling indoor and outdoor venue where you could spend the whole day. It was always heaving with people back before lockdown. Unfortunately, this element of the fairs that was the most fun is now the main danger. Kempton has addressed this risk by closing the indoor space and removing any amenities except for a coffee cart. You had to queue 2 metres apart and when you went in, they had hand gel at the gate. The organisers were really doing their best, but the nature of a fair like this is a bit at odds with social distancing as buyers rush around looking for deals. It was like stepping back in time four months as masks were only worn sporadically and there were people getting quite close to each other at the traders' stands. I also fell into a false sense of security and it wasn't until I was on the train back that I realised that I had put myself in harm's way by chatting with people without a mask on. We did stay 2 metres apart, but it still did not seem very safe.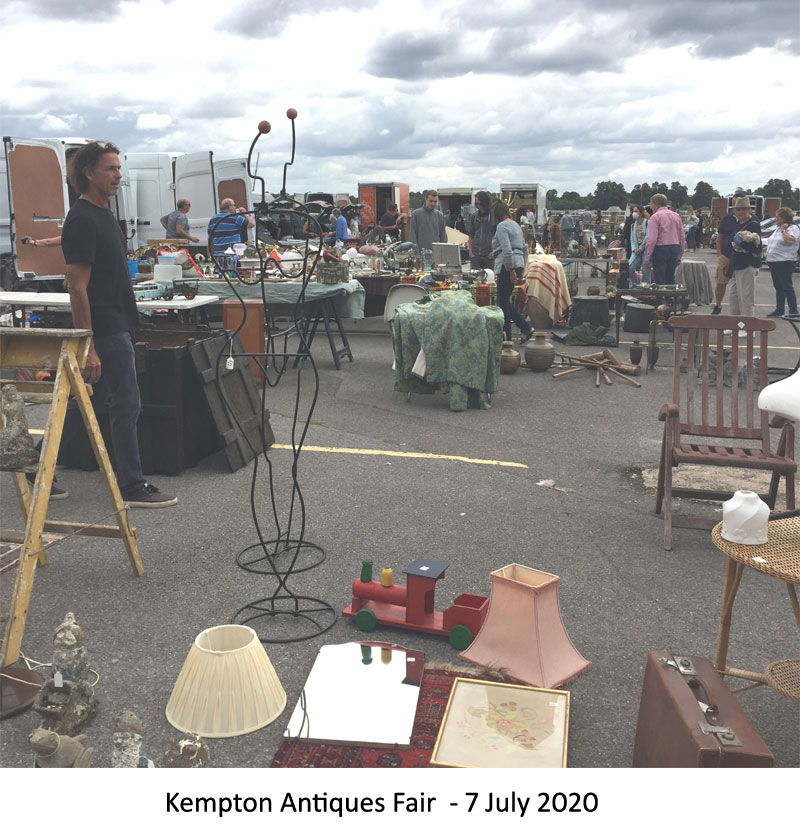 The organisers did a great job with a difficult situation, but I do not know if this will be enough in the long run. The traders that had stands at the fair were happy with the financial result due mainly to the trade buyers that arrived at 6:30 am. However, although this first fair was very well attended, I do not think that the fairs will maintain this without attracting private buyers. As a private buyer myself, I would be reluctant to return to such a chaotic environment.  Not to mention the fact that should it rain then the whole thing is jeopardised.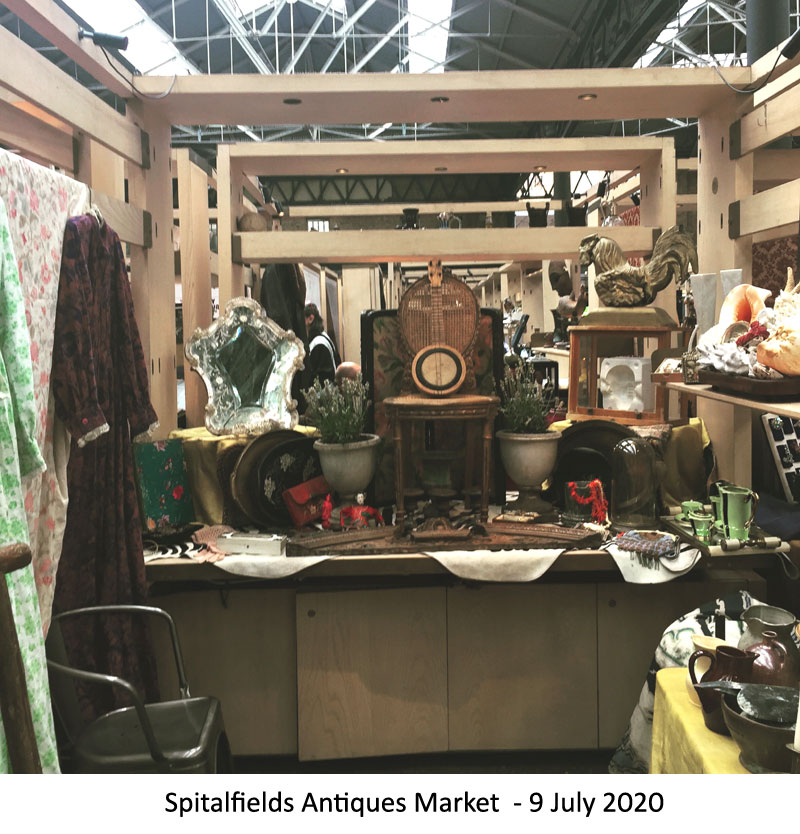 This was a good start, but the fair organisers should utilise the indoor areas by building barriers between traders with space for social distancing with the buyers. Also, there should be food and drink areas with seating and all the standard amenities. The trade will always frequent these fairs but if the private buyers are unwilling to come then the fairs become more of a boot sale atmosphere which I do not think anyone wants.
Spitalfields on the other hand has a very advantageous set up that was in place long before lockdown. They have these large wooden framed stands that keeps the traders 2 metres form each other and 1 metre from the customers. All the dealers were wearing masks and buying was very brisk earlier in the morning when the trade buyers went through.  I arrived a 2pm but spoke to a dealer I know there. This seems to be a good template for markets going forward.  Although there were not very many private buyers at the moment as the area around Spitalfields is mainly offices, this market I predict will do well as they have created a safe environment for buyers and traders.